Today's college students expect the best out of their dining halls—and that means not only chef-level cuisine, but ambience to match.
In the '50s, '60s, '70s, aluminum steam tables of overcooked vegetables, mystery meats, iceberg-lettuce salads, and Jell-O desserts, flanked by lines of students with plastic trays was a de rigueur scene in cafeterias across America. The '80s and part of the '90s saw shift toward the mall-style food court model with a burger joint, a stir-fry counter, a taco stand, and a frozen yogurt counter. But now students expect world-class fare.
"Now when students go to school, they are incredibly food-conscious," says John Wood, CMH Architects Vice President and lead project manager on The University of Alabama's Fresh Food Dining Hall. "They have had a wide variety of experiences with high-quality food. They've been exposed to many different types of restaurants, global flavors; they know more about nutrition, local ingredients, the slow-food movement; they have expectations for foods that are vegetarian, gluten-free, vegan, grain-free, paleo—all this stuff is in those kids' minds. So you go on campus and buy a meal ticket, and with that conscious of a student population, you can't just give them one thing. They're going to be unsatisfied and they are going to rebel and leave your food plan as soon as they can."
And it's not just the students who are paying attention; the parents are too, which means the dining hall experience is territory where colleges compete for dollars. "So the universities are competing academically, but also in the arena of campus quality-of-life, which includes the dining hall experience. So parents and students are making their choices about which university to invest in based on all of that," says John.
The stakes have been raised not only in the kitchens of college campuses, but also in the realm of dining hall design. So, when CMH Architects, experienced in food retail and construction, partnered with Baker Group, a food-service consultant out of Grand Rapids, Michigan, to create the brand-new Fresh Food Dining Hall at The University of Alabama, they knew the rising industry standards would afford them a new level of creativity, innovation, and excellence.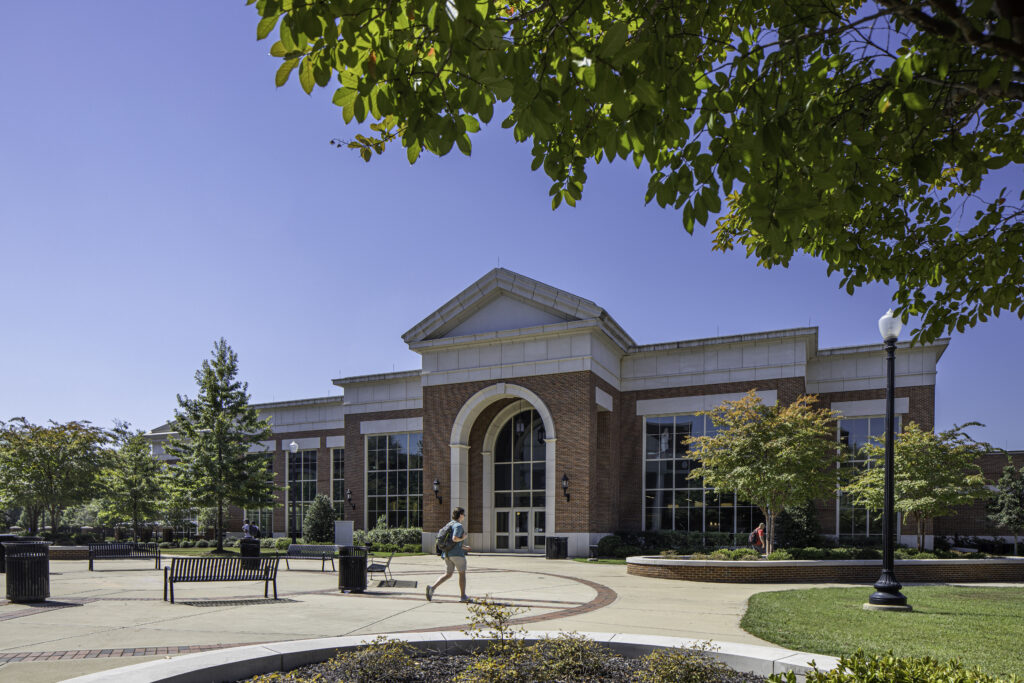 Expectations & Goals
The CMH design team and Baker went with the university to observe and critique an existing UofA dining hall. "We talked about the couple of things that they liked and all the things that they hated. They didn't like the fact that their hood didn't draw properly, that the venue didn't flow well, that every venue looked the same, the poor food display, and the poorly organized and inefficient back-of-house space with no food-prep area or dish-washing space," recounts John.
Then they went to the best dining hall on campus at the time and started to dream big. Baker brought their food-service expertise, turning the conversation to the menu. "Before you can design a food-service venue, you have to figure out the menu," says John, explaining that the menu drives strategy in modern dining hall design. For instance, parents want to their kids to be encouraged to eat healthy, so placement of those healthier choices is crucial in the design layout. In the same breath, the most visually pleasing and mouthwatering options drive consumer decisions. Says John, "People pick food visually before they choose it with taste. So, if you walk into a restaurant and it looks cool and the food is well-lit and well-displayed and it's not overwhelming but it's exciting, then you'll want to eat there. And if the food is as good as it looks, then you'll come back."
And that high-quality food that would keep students coming back was the university's number-one goal. "They essentially said, 'We will sacrifice quantity to an extent, as long as we can maintain high-quality food, an interesting variety, and make it all as visually compelling as the food'," says John, adding, "And we can set them up in a space that draws them in, where you can you can see the ingredients, you can watch them prepping the food, you can have fun interactive features like windows into the pizza ovens where you can watch the pizzas cooking or dessert stations where you can watch crepes being made—for whatever reason, demonstrations of food being made makes food taste better."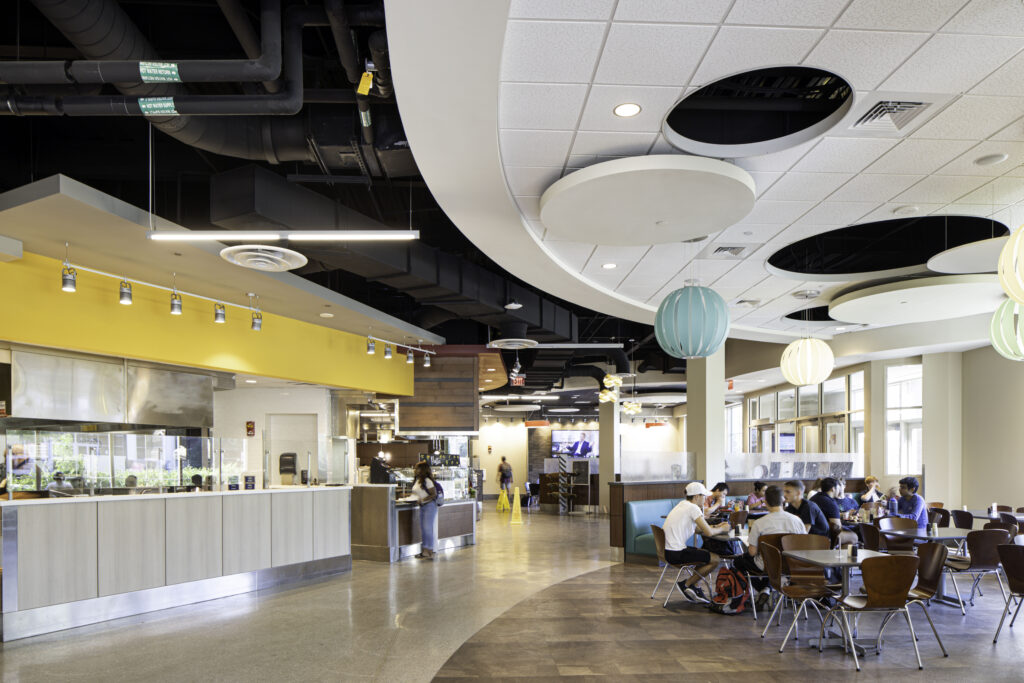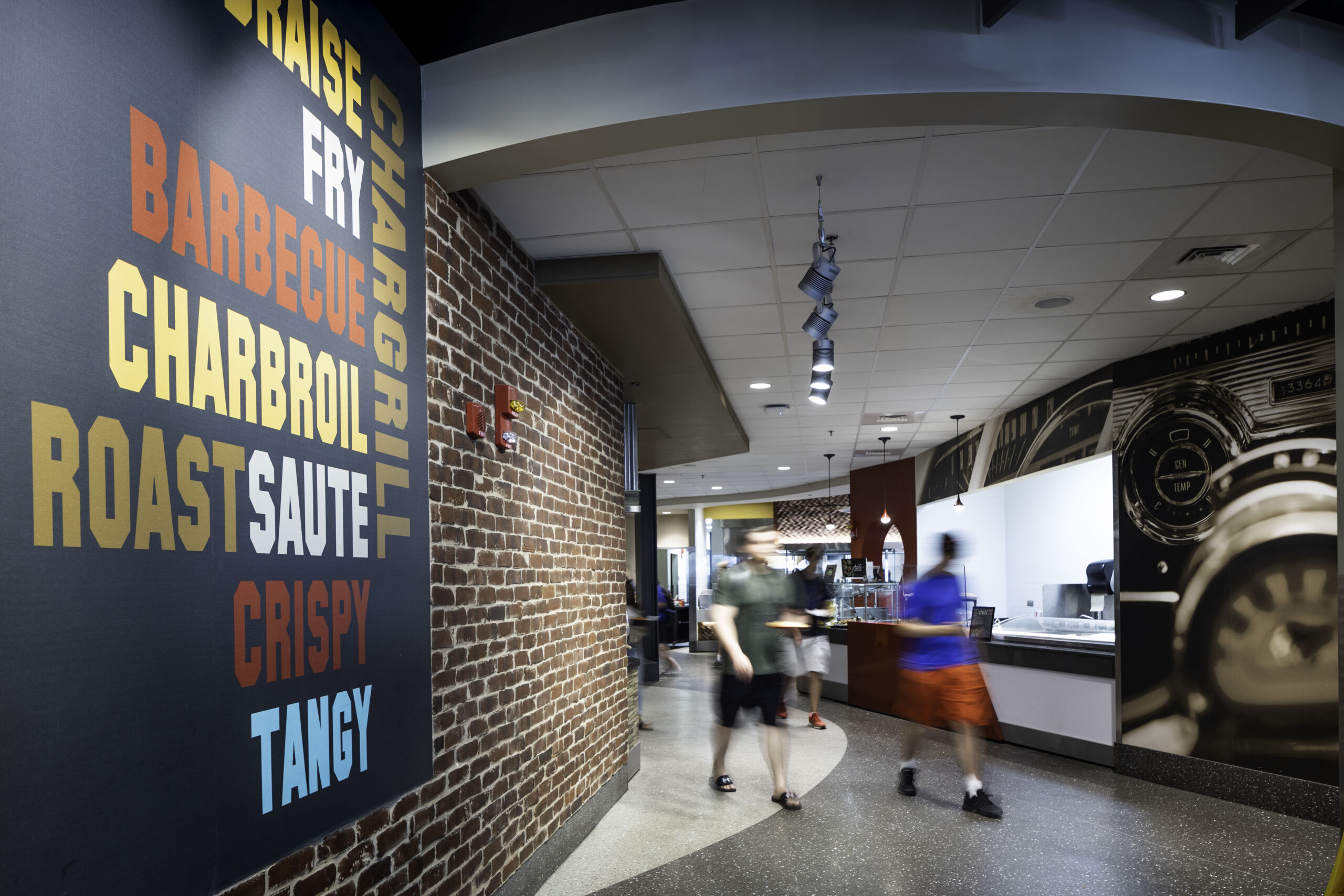 Smart & Scalable: CMH's Design Strategy
The parties involved settled on a menu featuring seven different food venues: a pizza and pasta eatery, a chef's table featuring new seasonal recipes each day, a healthy salad and soup option, a sandwich deli, a home-style meat-and-three, a hamburger joint, and a breakfast bar.
A major goal for the university was for the space to be easily modified to fit changing needs throughout the day. Breakfast service might only utilize one or two stations; while lunch was full-bore, and dinner might only have a handful of eateries cooking. "So we had to come up with a design that had a lot of flexibility in it, so we configured that layout with scalability to it so that is never felt empty," says John. "The shape of the dining hall is largely linear, so the layout featured thoughtful placement of the food venues to encourage healthy eating and to make this dining hall easily scalable. Near the entrance, we placed the venues that were healthier, but also ones that we can configure for breakfast and dinner when we are serving a smaller number of students."
Guests walk in to see a pizza station with enticing firey pizza ovens, along with pastas. To the left of it, you're immediately hit with the salad bar. And the furthest thing from the front are the hamburgers and french fries. "And moms and dads like that, because they want to say, 'OK, at least my kids are being exposed to healthy foods.'"
Just behind that salad bar, there's a self-serve stations and a bar that they can set up with yogurt parfaits and fresh fruit for a continential breakfast-style self-serve station; while the adjacent pizza station or chef's table would offer a hot breakfast option. And simply by turning off the lighting in all other areas, the space feels alive and active in these utilized stations. Turn the lights on in the other stations, fire up the grills, and convert the breakfast bar to a novelty ice cream station, and the space is immediately transformed and ready for the larger lunchtime crowd.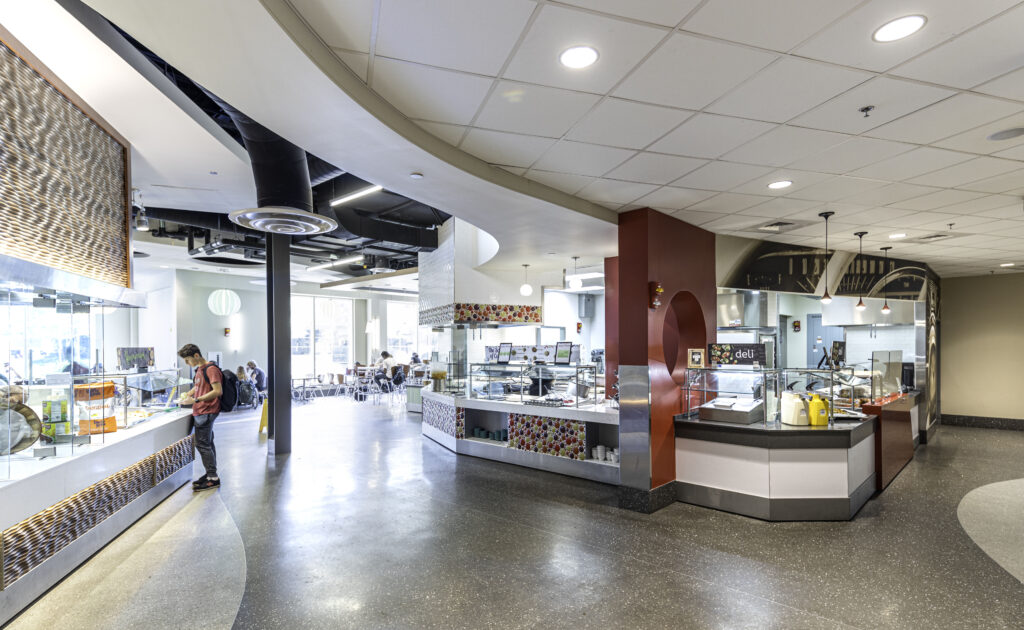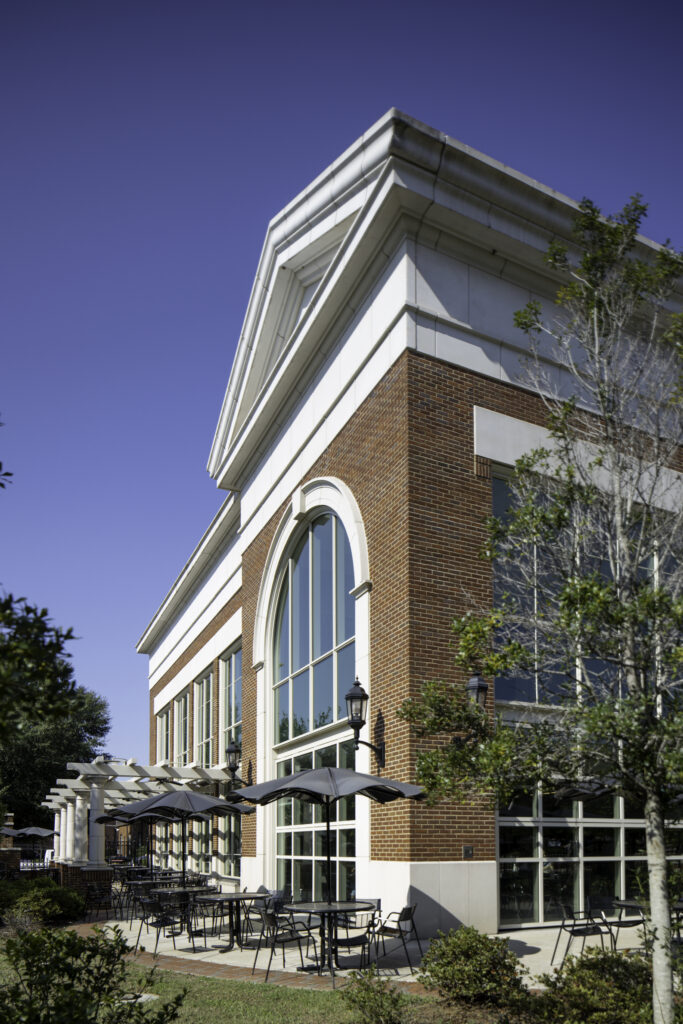 Keeping the Space Relevant & Exciting
CMH was intentional about designing distinctly different themes for each food station, creating ambiences to match each cuisine's characteristics and origins. "Not only is every single one of those food stations serving different food, they are designed differently, and that way, psychologically, you can feel like you are going to a different restaurant each day, so the students don't get cafeteria burnout," says John. "And I think that was the most creative aspect of this project, creating those distinct food venues and seating areas."
Guests who enter the facility are greeted by an outdoor seating pavilion, which in pleasant weather becomes part of an indoor-outdoor seating area thanks to large windows which are actually bi-fold doors that open to create a glass awning. Inside, a cozy seating area with a fireplace and a big-screen TV invites you to feel at home. Distinctive and disparate specialty lighting throughout sets each food venue apart as does unique design. The pizza station, for instance, feels like a pizzeria with high-back chairs and booths, red lighting, and murals of Italian vignettes. The salad bar features bright vibrant greens and blues with brightly colored images of a lettuce field. The meat-and-three features a unique corrugated metal detail to give it the folksy feel of a barbecue joint.
"Usually you see every single station sort of done the same. The problem with food service venues like that is that people get tired of the same thing. So you want to be able to change some things, but you don't want to have to change everything," says John. "So, if you wanted to change the deli because nobody's buying sandwiches anymore, you could change that one station—its menu, its facade, its branding—but you don't have to change anything else, so it is really versatile and dynamic."
And being that this was CMH's first dining hall on a university campus, the results are impressive. The project garnered accolades from FoodService Equipment & Supplies Magazine as a finalist for "2017 Facility Design Project of the Year" and for "Outstanding Design & Architecture in Education" in 2015. It's safe to say, CMH has a handle on campus dining halll design.
"We've learned a lot about how to do on-campus dining throughout this process," says John. "We've learned how to make spaces that flow properly and are dynamic and fun and exciting."