NeoCon is a conglomeration of manufacturers, dealers, designers, architects, and media who join to enjoy over 1 million square feet of cutting-edge products and services from incredible companies that provide access to pioneering design solutions.
Last month, NeoCon 50 took place in Chicago, IL. CMH had the pleasure of sending our interior designer, Katherine Burkholder, and our graduate architect, Justin Burkholder (who also happens to be Katherine's husband) to the event.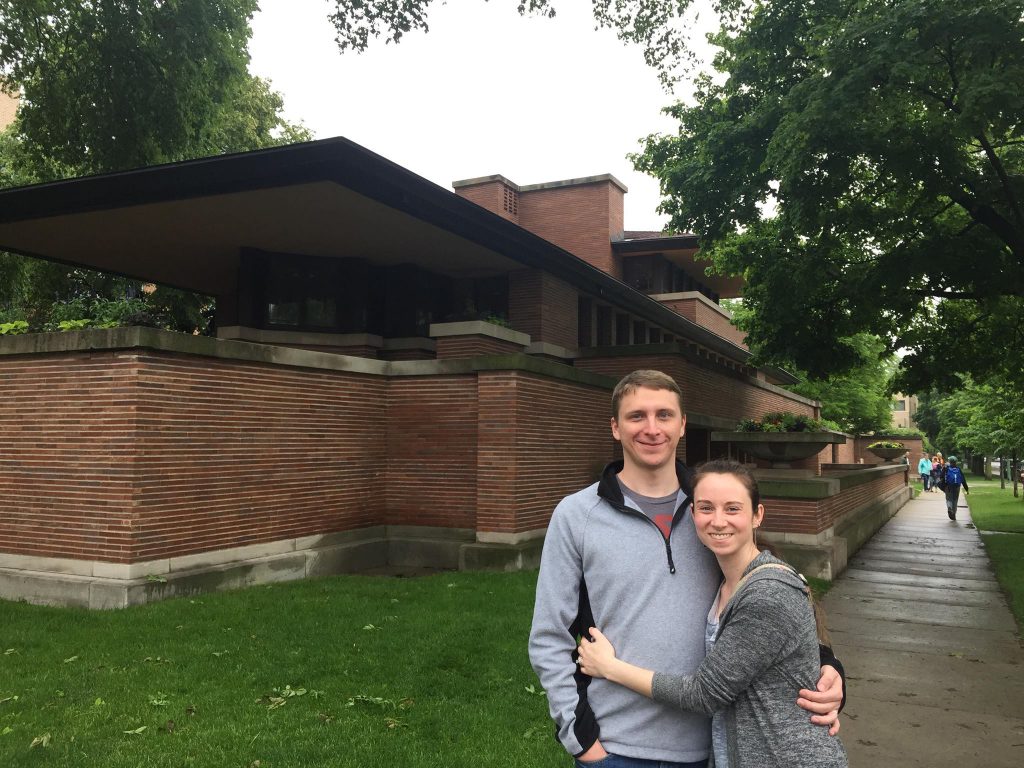 The two headed out to Chicago on Sunday before the event kicked off Monday morning. Coincidentally, Sunday was also their one-year wedding anniversary! After dealing with a delayed flight, they finally landed in Chi-Town. Given that their timeline was shortened by the delay, they stuck to their priorities: architecture and pizza. "Sunday ended up being really rainy which led to the flight delay (the lake and river cause a LOT of fog in Chicago), so we only saw the Robie House (which ended up being half under restorations) and got delicious deep-dish pizza at Lou Malnati's!"
Monday morning kicked-off NeoCon. NeoCon 50 was the 50th anniversary of the event, and it featured over 550 exhibitors! "Getting to see so many products in one place is both very inspiring and very overwhelming. It was a great way to see what all is out there that you may not have been aware of before, as well as seeing the latest and greatest from manufacturers we know and love."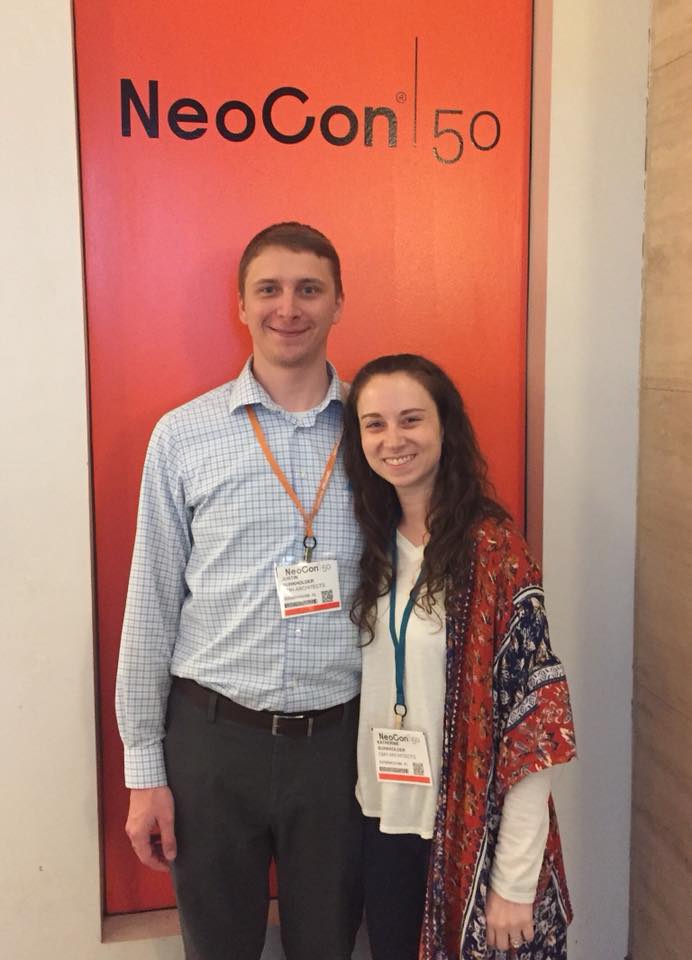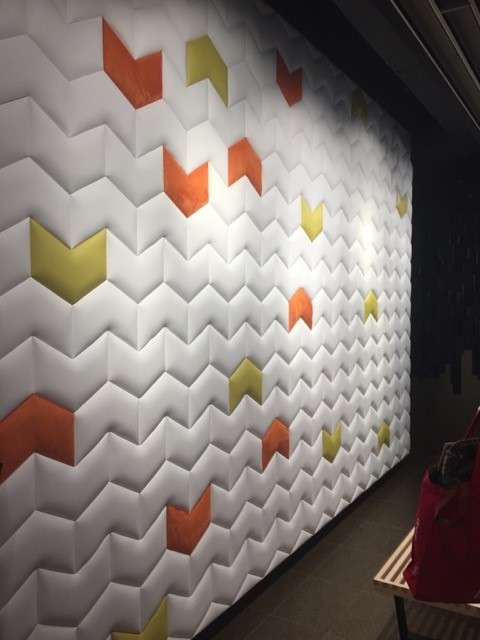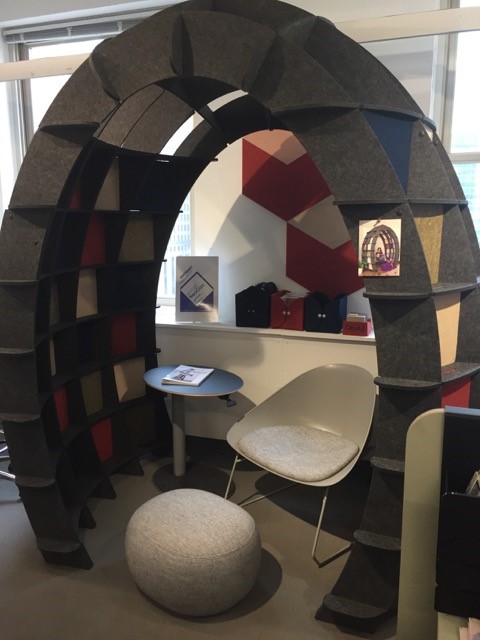 Post-Neocon that evening, Katherine and Justin took an architectural boat tour around the city. "It was the best part of the trip. We went up and down the Chicago River with a tour guide that had so much interesting information about all the various buildings on the riverfront. He told the history of Chicago and the buildings from the very beginning which was very interesting to hear." After that, they headed to Maude's Liquor Bar for dinner where Katherine had her favorite dish of the trip. "It was amazing. I had a Lyonnaise salad with pork belly and gnocchi with mushrooms." Justin's favorite dish was the "gigantic fried chicken sandwich I had at a lunch with a  product representative at Cindy's Rooftop near Millennium Park. The waitress also gave us some interesting lessons about the building's history, specifically when the country was under alcohol prohibition. They recently renovated the space and found many spirits in a boarded-up "Speak Easy" bar in the middle of the building that would have been illegal at the time.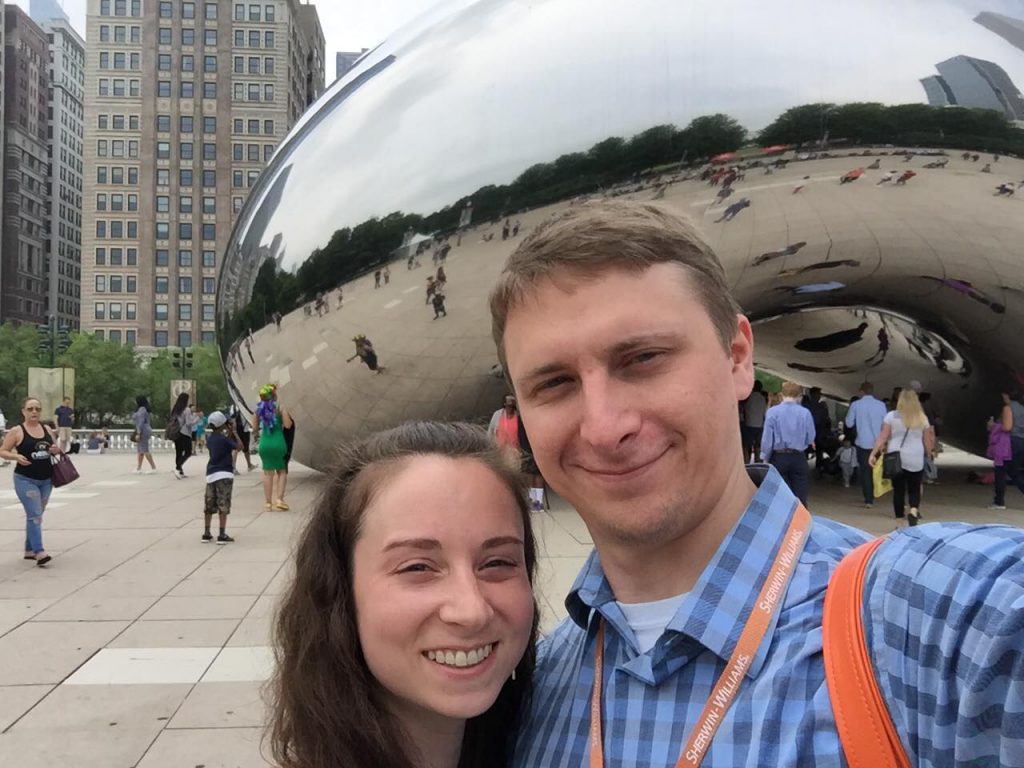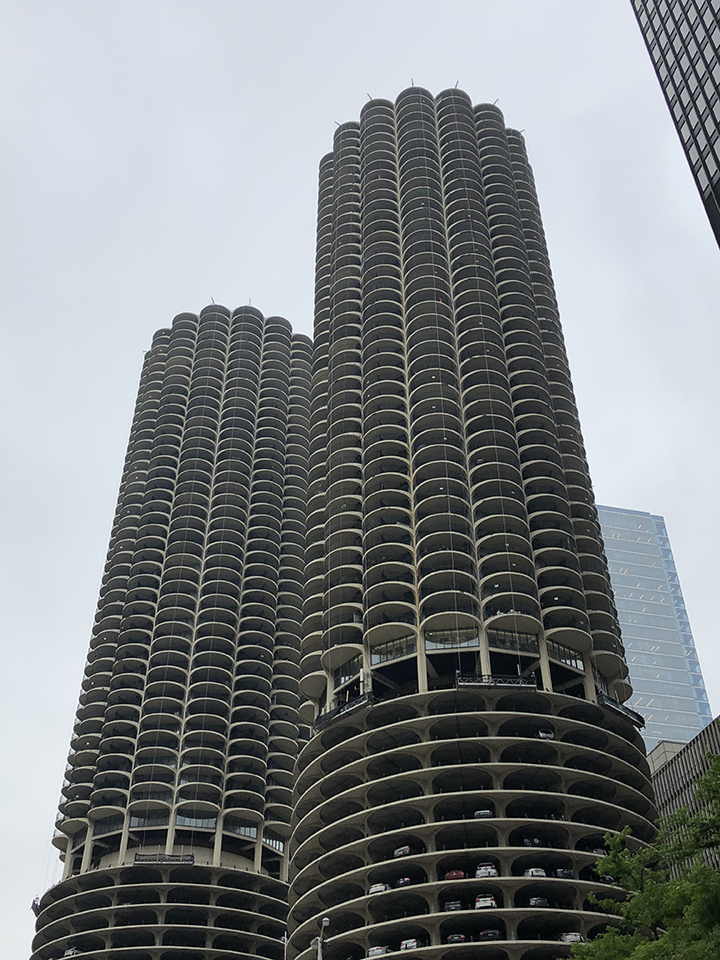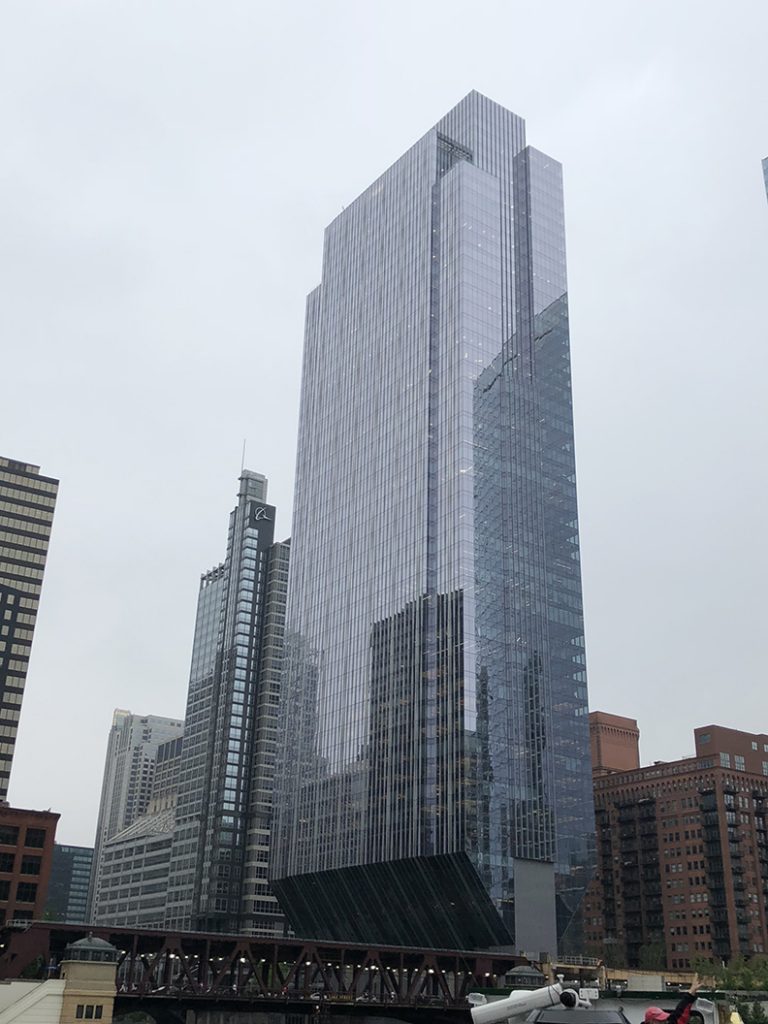 Sight-seeing naturally required a selfie with Cloud Gate (also known as "The Bean") by British artist Sir Anish Kapoor. When asked what her favorite piece of architecture that she saw over the trip was, Katherine said, "I really liked the Marina Towers by Bertrand Goldberg – which are lovingly referred to as 'the corn cob buildings.' They may not be the most aesthetically pleasing buildings in Chicago, but they have a certain 'je ne sais quoi' about them. They are also very efficiently designed with the lower floors being utilized for parking." For Justin, he particularly loved 150 N Riverside. "Many locals call it 'The Tuning Fork' because of its shape. The site restrictions of the building required it to be built almost on top of the adjacent railroad tracks, so to maximize the amount of living and lease space, the upper floors of the building are cantilevered out on two sides of the foundation. The base of the building is only about 39 feet, but extends to almost 120 feet for the upper floors, giving it an almost 80 feet cantilever. Apparently, they had to import specialized steel from Europe to meet the engineering specifications. It's incredible."
Katherine and Justin attended various CEUs during NeoCon. Check out the write-ups about the ones they attended!
"Cultural Evolution Choice and Beyond"
As time moves forward and workplace culture is evolving, Cultural Evolution Choice and Beyond focused on change in larger corporate companies. The discussion was about the realization that people are more productive in their own personal ways, and that the office/cubicle is not the only place that they can/do get work done. This discussion focused on the movement to understand worker "personas" and to create working environments that are conducive to all types of workers. The idea is not about reducing office space, but rather redistributing it. Reducing private office sizes and increasing opportunities for respite and informal meetings to encourage people to get up and move from their desk to another space in the office – perhaps by a window if your desk is not located near one – and also creating transparency and accessibility with executives by not closing them off in a dark hallway. The most difficult part of this way of thinking is getting businesses and their cultures to change with new design.
"Moving Beyond Open Plan"
This discussion focused on different types of working spaces and cultures over the years and their associative pros and cons: open plan, co-working, ABS (activity-based working), NCE (neighborhood choice environments), and MEMO (maker environments, mobile occupants). We then discussed how these types of environments can be tailored to suit different business needs by looking at case studies.
"Biophilic Design"
Biophilic design looked at case studies showing how embracing the connection between humans and nature within the designed environment can positively affect those inhabiting it. We also discussed various was biophilia can be incorporated into design.
"Beyond Green Walls"
Humans have evolved over thousands of years in environments that constantly change – be it audio, visual, thermal, or olfactory. This CEU discussed how we can create environments that better support human's innate, hard-wired inclinations to be restored by subtly changing environments rather than static environments. The speakers discussed Attention Restoration Theory (which asserts that people can concentrate better after spending time in nature, or even looking at nature) and went over examples of how this theory can be incorporated into the modern built environment.