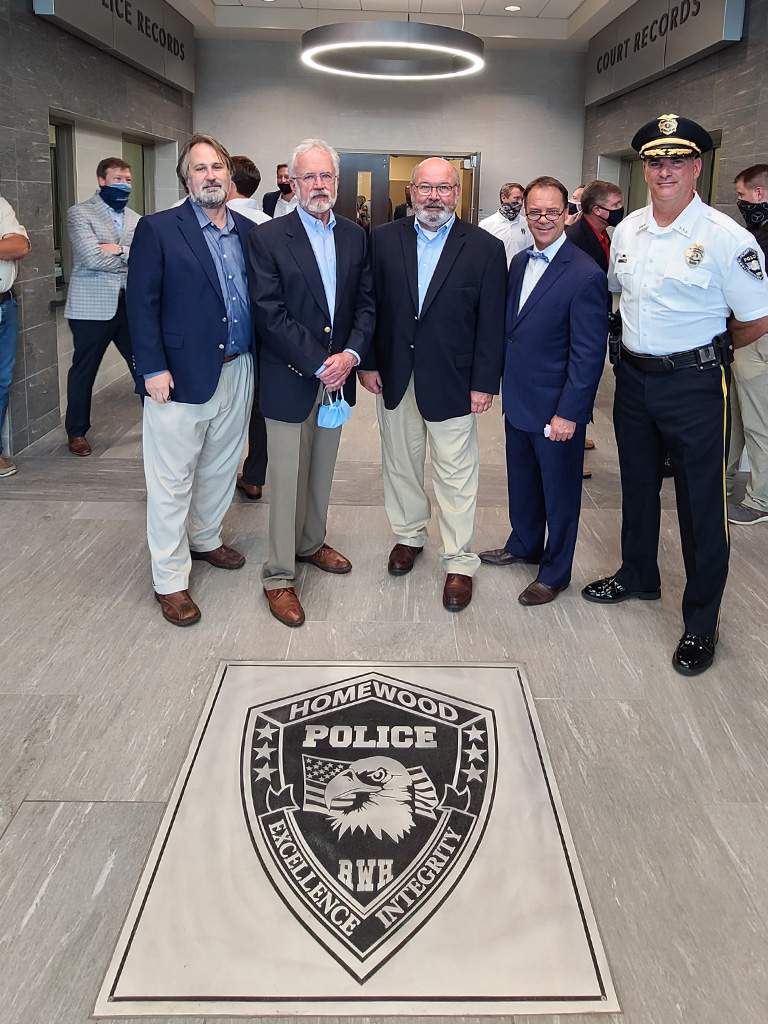 Homewood , AL – The Homewood Police Department Headquarters is an incredibly sophisticated, multidimensional complex housing the police department, municipal court, and comprehensive municipal jail facilities. This accomplished the intended goal of bringing the police department's three separate locations and myriad departments all together under one roof.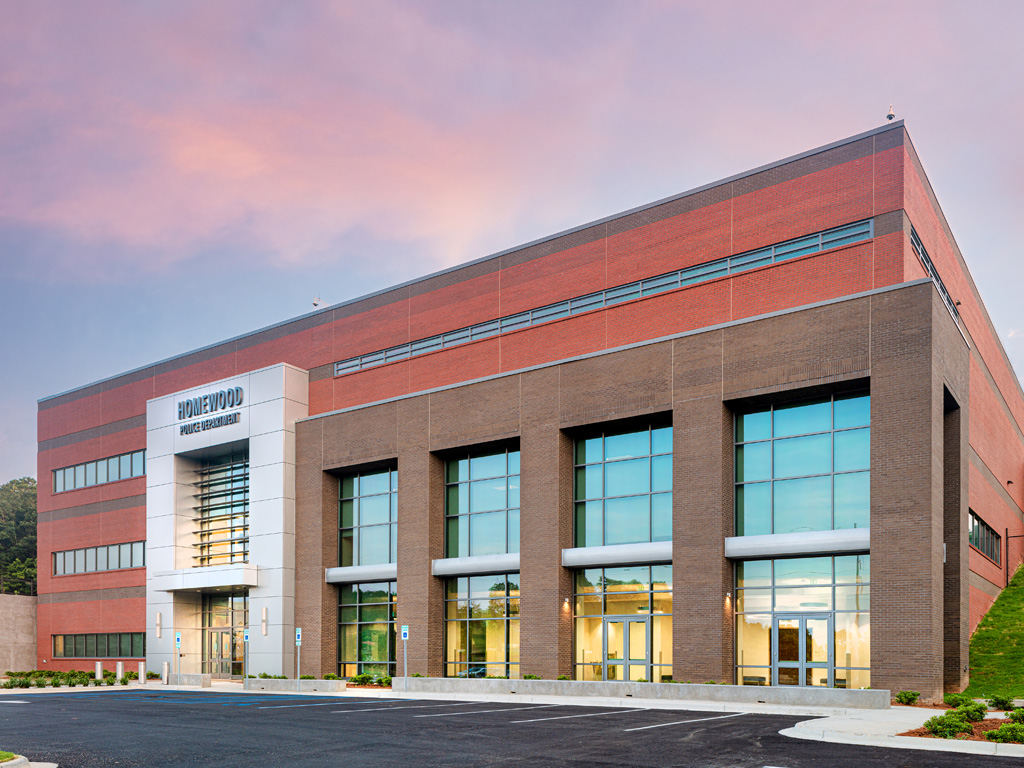 The state-of-the-art facility includes an E911 center, crime lab and evidence storage, animal control department, training areas, educational presentation rooms, and private debriefing rooms. An expansive garage houses multiple vehicle types and is adjacent to an outdoor carport, onsite vehicle investigation bay, and adjacent maintenance garage. The building boasts a cutting-edge security system an energy efficiencies, as well as amenities that the hardworking staff have long gone undeterred without, such as break rooms, locker rooms with generous storage space, and gym and fitness center, a staff favorite.
"The professionals at CMH asked us what we needed now and in the future," said Homewood Police Captain Ben Sutton, who served as department liaison on the project. "They took us to other municipal structures that they had designed and encouraged us to seek others. They listened to us and put our ideas on paper. We modified those drawings until we had a great building that will last for decades. During this process, CMH answered hundreds of questions from all the command staff and helped resolve any issues we had. They made sure that I understood what was going on and why, which made my life a lot easier."
"CMH made sure that I understood what was going on and why, which made my life a lot easier."

Captain Ben Sutton, Homewood Police Department
Homewood Police Chief Tim Ross adds, "CMH also came to several city council meetings and helped explain to the city leaders why the police department needed many features within our new facility."
This superior client service was helmed by Billy Morace, CMH's Quality Control & Construction Administrator, who, as former Director of the General Services Department for Jefferson County, Alabama, was responsible for supervising the design and construction of all new buildings, renovations, and maintenance for over 6,000,000 square feet of municipal facilities. This experience gives him an owner's perspective of dealing with budgeting and the design and construction process, as well as understanding the importance of design on long-term maintenance and staffing requirements.
This project site's extremely steep incline presented a challenge, which CMH met by engaging the three-story building into the hillside, in the process saving $1 million in site work costs. "Once we got the survey, we realized the difference in elevation from the top of the site to the bottom is 70 feet," said Billy. "So, we had to significantly modify the two-story design to be a three-story design, with public parking and entrance in the front and staff parking and entrance in the back. "Besides the site, we also tackled the challenge of meeting their budget. The original design was $25 million, and we redesigned it to be an efficient solution that met their $21 million all-inclusive budget."
At the ribbon-cutting ceremony for the new police headquarters, Chief Ross noted his role as a steward of the city's resources. "It was important to me that at the end of this, I could say to the people, the city council, and the mayor of Homewood that we spent your money wisely, we made a good investment, and we stayed within budget." He continues, saying, "My favorite thing about our new building is just the design—it makes a statement and is beautiful to look at. I really enjoy driving up to it every morning. I have never seen a better designed police department in my 32 years of being a police officer anywhere in this area or beyond."
"I have never seen a better designed police department in my 32 years of being a police officer anywhere in this area or beyond."

Chief Tim Ross, Homewood Police Department